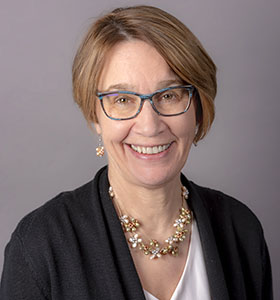 Dr. Catherine Cervin
MD, CCFP, FCFP, MAEd
Past-President
Sudbury, Ontario
Dr. Catherine Cervin achieved Certification in the College of Family Physicians of Canada (CCFP) in 1981 and became a Fellow (FCFP) in 2000. She completed a master's degree in education in 2010.

Through a broad range of leadership roles, Dr. Cervin brings to the table a history of board and governance work, experience with strategic planning, an understanding of distributed medical education, a passion for caring for vulnerable populations, and a dedication to social accountability.
After training at the University of Toronto and at Dalhousie University in Halifax, Nova Scotia, Dr. Cervin worked in various settings—including full-scope family practice in Timmins and Sault Ste. Marie, both in Ontario—before pursuing an academic career in the Department of Family Medicine at Dalhousie University.
Dr. Cervin was appointed the first Vice Dean, Academic of the Northern Ontario School of Medicine (NOSM) on January 1, 2018. She had joined NOSM in 2011 as Associate Dean, Postgraduate Education. In these roles Dr. Cervin has supported the development of NOSM's family medicine residency program and generalist Royal College of Physicians and Surgeons residency programs, all of which help address the health care needs of the people of Northern Ontario and particularly those in rural, Indigenous, and francophone communities.
Dr. Cervin's involvement with the College of Family Physicians of Canada (CFPC) includes serving as a member of the Section of Teachers Council, chair of the Board of Examinations and Certification, chair of the Honours and Awards Committee, and chair of the Foundation for Advancing Family Medicine.
She received an Award of Excellence from the CFPC in 2010 and a Certificate of Merit from the Canadian Association for Medical Education in 2009.
Dr. Cervin served as CFPC Secretary-Treasurer from 2018 to 2019, President-Elect from 2019 to 2020, and President from 2020 to 2021.
[email protected]