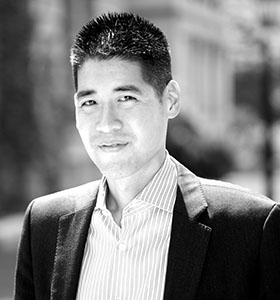 Dr. Lawrence C. Loh
MD, MPH, CCFP, FCFP, FRCPC, FACPM
Executive Director and CEO
Toronto, Ontario
Dr. Lawrence C. Loh completed his undergraduate training and medical school at Western University, and his residency at the University of Toronto during which time he also earned a Master of Public Health at Johns Hopkins University. He holds Certification and Fellowship in the CFPC and also holds Fellowship in Public Health and Preventive Medicine with the Royal College of Physicians and Surgeons of Canada and the American College of Preventive Medicine.

Dr. Loh's medical career began as a comprehensive family physician working in an underserved neighbourhood of Brampton, Ontario. He maintained links to primary care practice as he went on to hold positions of increasing responsibility over a decade of senior medical leadership roles in the public sector. During that time he served at all three levels of government in two provinces, including the Public Health Agency of Canada and Fraser Health Authority in British Columbia. While working at Public Health Ontario he was seconded as a senior medical consultant to the Ministry of Health in the Office of the Chief Medical Officer of Health.

Prior to becoming Executive Director and Chief Executive Officer of the CFPC in September 2022, Dr. Loh was the Medical Officer of Health for the Region of Peel, best known for leading the Peel Public Health team through the COVID-19 pandemic. After he assumed that role in March 2020, Dr. Loh and the team directed measures to save lives and mitigate the impacts of COVID-19 while also working closely with family doctors and other partners in Peel community to deliver the largest vaccination rollout in Canadian history. Before the pandemic Dr. Loh served as one of Peel's Associate Medical Officers of Health with a portfolio focused on environmental health, health equity, digital health, and physician outreach that included liaising with primary care.

Currently, Dr. Loh is also Adjunct Professor at the Dalla Lana School of Public Health at the University of Toronto and a clinical lecturer at the Department of Family and Community Medicine at Queen's University in Kingston, Ontario. His teaching and research foci have spanned the fields of global health development, global health ethics, and medical and public health education. He has a long track record of contributions to the CFPC, including as an SOO exam simulated candidate, examiner, and assistant coordinator, as a contributor and peer reviewer for Canadian Family Physician, as an inaugural Besrour Centre research fellow, and via engagement in Family Medicine Forum.

Dr. Loh's leadership and service have been recognized by colleagues and the public. He has received the Key to the City of Mississauga, an Award of Recognition from the Town of Caledon, and was named as one of Toronto Life's Top 50 Influential Torontonians in 2021, among other academic, teaching, and practice awards.

Dr. Loh is an avid runner and enjoys spending time with family and friends, travelling, playing the piano, and writing. He lives in Toronto with his wife, a practising family physician, and two young daughters.