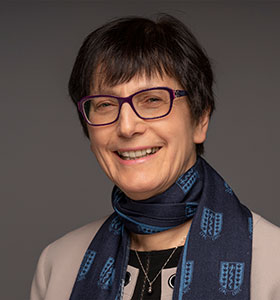 Dr. Francine Lemire
MD CM, CCFP, FCFP, CAE, ICD.D
Executive Director and Chief Executive Officer
Toronto, Ontario
Dr. Francine Lemire obtained her medical degree from McGill University and then did an internship in internal medicine. She completed her family medicine residency at Memorial University of Newfoundland, which included enhanced skills training in anesthesia. She obtained Certification in the College of Family Physicians of Canada (CCFP) in 1979 and became a Fellow in 1993.

While practising comprehensive family medicine for 23 years in Corner Brook, Newfoundland and Labrador, Dr. Lemire included intrapartum care and anesthesia as important elements of her scope of practice. From 2003 to 2013 she worked part-time with the Toronto Western Family Health Team at Toronto Western Hospital in Ontario. She has academic appointments at the University of Toronto and Memorial University of Newfoundland.

During the late 1980s Dr. Lemire proudly served as President of the Newfoundland and Labrador College of Family Physicians. From 1998 to 1999 she was President of the CFPC and from 1995 to 2000 was a member of the CFPC's National Executive Committee. In 2003 Dr. Lemire became the CFPC's Director of Membership, and in 2006 she was promoted to Associate Executive Director, Professional Affairs. In 2012 Dr. Lemire was appointed Executive Director and CEO of the CFPC. Throughout her career at the CFPC, Dr. Lemire has provided input about the role of family doctors and family medicine in the health care system through various initiatives, including working with the Mental Health Commission of Canada, WONCA (the World Organization of Family Doctors), and the Virtual Care Task Force, a collaboration of the Canadian Medical Association, the Royal College of Physicians and Surgeons of Canada, and the CFPC.

The CFPC achieved many important milestones during Dr. Lemire's first five-year term as CEO. They include: improved governance, with moves to smaller, skills-based boards for both the CFPC and the Foundation for Advancing Family Medicine; the implementation and evaluation of the first competency-based postgraduate medical education curriculum (Triple C) in Canada; the introduction of Certificates of Added Competence; a major review of the continuing professional development standards for accreditation, and the implementation of Mainpro+® (the CFPC's tool for Maintenance of Certification); the dissemination of the Patient's Medical Home concept as a model for family practice; and the creation of the Besrour Centre for Global Family Medicine.