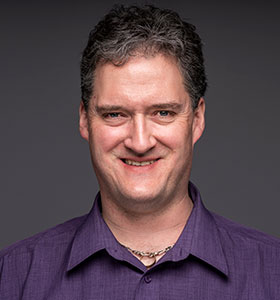 Dr. Jean-Pierre Arseneau
MD, CCFP
Director-at-Large
Bathurst, New Brunswick
Dr. Jean-Pierre Arseneau completed his medical degree in 1992 and his family medicine residency in 1994 at the University of Sherbrooke. He received his Certification in the College of Family Physicians of Canada (CCFP) in 1994.

In 1998 Dr. Arseneau co-founded the Clinique Médicale Nepisiguit in Bathurst, New Brunswick, where he has also been the proprietor since its opening. In 2005 he was a pioneer by establishing his practice as a Patient's Medical Home–inspired clinic. It has 12 physicians, 15 employees, and 13,000 patients. Dr. Arseneau practises comprehensive family medicine, including in-patient care, hospital care, and home care—all with a teaching focus. He has an interest in community care and quality improvement.

Since 1998 Dr. Arseneau has served as Professor, Regional Academic Coordinator, and External Family Medicine Unit Director at the University of Sherbrooke. He was chief of the family medicine department for Chaleur (Region 6) in Bathurst, New Brunswick, from 2001 to 2005. In addition to his leadership skills, Dr. Arseneau brings governance experience to his roles. He was chair of the Advisory Committee on Medical Resources of the Nor'East Health Network from 1998 to 2006, Medical Education Coordinator for the Nor'East Health Network and Region from 1998 to present, and president of the New Brunswick College of Family Physicians (NBCFP) in 2008 and 2009. He served on the CFPC's Board of Directors from 2006 to 2009, and he was a member of the CFPC's Advisory Committee on Family Practice from 2010 to 2015. Dr. Arseneau has served on the CFPC Board of Directors since 2018.

In 2003 Dr. Arseneau received the Reg L. Perkin Award as the CFPC's Family Physician of the Year for New Brunswick, and in 2017 he received the Jean-Pierre Despins Award. In 2021 the NBCFP honoured Dr. Arseneau with an Award of Excellence. He is a francophone with a unique community-based, Atlantic Canadian perspective, and he has strong financial and business acumen. In 2019 Dr. Arseneau's clinic, Clinique Médicale Nepisiguit, received the Patient's Medical Home–Outstanding Family Practice Award from the NBCFP.