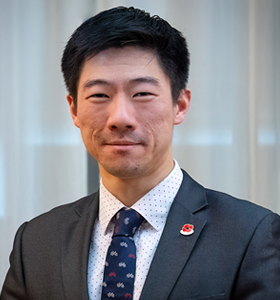 Dr. Yan Yu
MD, MPP, MBA, CCFP
Director-at-Large
Calgary, Alberta
Dr. Yan is passionate about serving fellow CFPC members and helping to make the CFPC more relevant to their everyday practices.
Dr. Yu completed his medical degree at the University of Calgary (U of C) in 2014. As a Rhodes Scholar at Oxford University, he undertook dual master's degrees in public policy and business administration, which he finished in 2016. He then returned to U of C for his family medicine residency, and he earned his Certification in the CFPC in 2018.
Currently a family physician in Alberta and the Northwest Territories, Dr. Yu practises in numerous clinical settings such as community-based family medicine clinics, long-term care homes, hospitals, and rural emergency rooms. His clinical interests include working in emergency psychiatry and providing care to rural, remote, and Indigenous communities. More than half of his patients in the Northwest Territories are Indigenous.
Passionate about medical education and health care innovation, Dr. Yu founded
The Calgary Guide to Understanding Disease
as a medical student in 2012. This free, online medical training resource—which U of C students write and faculty members review—is accessed more than 2,000 times a day and has been downloaded more than three million times by users in more than 180 countries.
Dr. Yu became involved with the College as a Section of Residents Council representative, which included working on the
Guide to Advance Care Planning Discussions
.
He has been a member of the CFPC's Patient's Medical Home Steering Committee since 2016 and has served as its Chair since 2020.
In 2017 Dr. Yu received the Alberta College of Family Physicians' Family Medicine Resident Leadership Award.