Important information about the Mainpro+® end-of-cycle/end-of-year reporting
2021-07-16

Yearly requirement of 25 credits (certified or non-certified)
Cycle requirement of 250 credits total and at least 125 certified credits
Please note that this six-week grace period is for CREDIT REPORTING only and you may only report credits you earned before and up to June 30, 2021. Any credits you earn in July and beyond, will count towards your next five-year cycle which will begin on July 1, 2021.
Do you need additional certified credits? Try one of our Linking Learning forms that you will see on the left side of your dashboard under "Resources." They are self-reflective exercises eligible for five (5) certified credits each and you can fill out as many as you like! Please ensure you include a date of June 30th or earlier as your reflection date so the credits will be counted toward your requirements.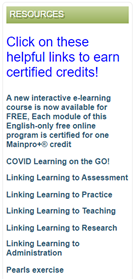 Book a live consultation on Zoom with a Mainpro+ expert if you require any assistance with your credit reporting. The Mainpro+ team is here to help!
Contact us now to book a one-on-one appointment at 1-800-387-6197 ext. 560 or
[email protected]
.