Chapter News | March 2021
2021-03-01
British Columbia College of Family Physicians (BCCFP)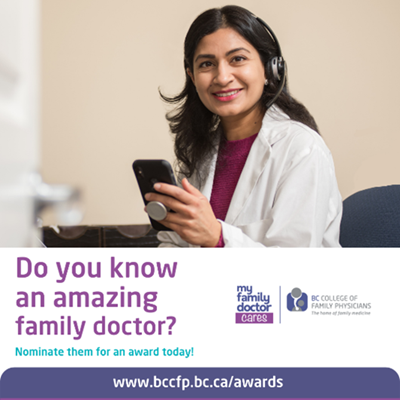 Celebrate an Amazing Colleague: Nominate them for an award
Recognize an exceptional family physician, resident, or student by nominating them for a BCCFP annual award by
March 31, 2021
.
Our BC Family Physician of the Year Award recognizes a family physician who provides exemplary care and contributes to excellence in family medicine. The First Five Years of Practice Award celebrates the accomplishments of a family physician in the early years of their practice, while our student and resident awards recognize up-and-coming family physicians.
Read more about our awards and nominate someone special today
.
---
Quebec College of Family Physicians (QCFP)

Annual Meeting of Members: June 4, 2021 ‒ Elections
Four (4) positions are up for election at the next annual meeting of the Quebec College of Family Physicians (QCFP), which will take place virtually on
Friday, June 4, 2021, from 12:25 p.m. to 1:25 p.m. (ET)
. Any member in good standing of the QCFP can submit their application to the Nominating Committee by completing the
application form
and emailing it to the administrative office at
[email protected]
.
To be valid, an application must be supported by five (5) members in good standing and be received
no later than Tuesday, April 20, 2021
. No applications will be accepted after that date.
Practising Wisely 2021: Register now!
Register
now for the 2021 series of Practising Wisely: Reducing Unnecessary Testing and Treatment. The first available date is March 30, 2021.
You can also
email us
to arrange training for your clinic. This 7-hour workshop has been certified for a maximum of 21 Mainpro+
®
credits.
Practice Assessment Activities (PAAs)
Discover our
new tools for studies using explicit criteria
! In alignment with the Choosing Wisely Canada recommendations, these tools will contribute to the ongoing quality improvement process and count toward the required practice assessment activity (PAA) hours, in accordance with the
Collège des médecins du Québec
(CMQ)'s
Regulation respecting mandatory continuing education for physicians
.
QCFP Day 2021: We hope to see you on June 4, 2021!
Visit the
QCFP Day web page
to check out the program and register for this training day, which will be held on Friday, June 4, 2021. This year, the theme is "How to Organize Your Practice and Keep it That Way—Boot Camp for a Problem-Free Practice!"
This online event, which is organized by the QCFP's Early Career Committee, aims to empower early-career family physicians, residents, and other family physicians who are facing challenges with organizing their practices.