The Patient's Medical Home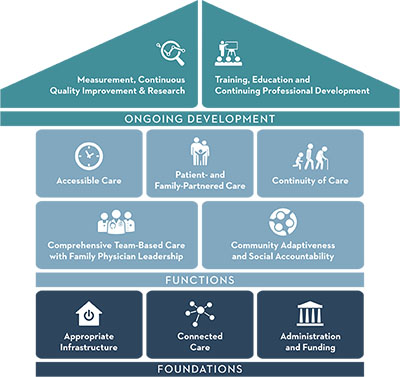 The Patient's Medical Home (PMH) vision describes how family physicians work in teams with other health care professionals to provide accessible, high-quality care for their patients. PMH-aligned practices have shown to improve quality of care and satisfaction while having potential to save costs across the health care system.

The PMH vision has already been integrated in various forms across the country and represents the future of primary care in Canada. For more information on the PMH and its ongoing development across the country, please visit the Patient's Medical Home website.

PMH vision document – The latest version of the PMH vision, from 2019, complete with a detailed background, new pillars, and supporting recommendations.

Virtual Care supplement — This supplement to the PMH vision articulates the role of virtual care in supporting patients' access to primary care. The CFPC recommends that virtual care should complement in-person care rather than replace it entirely.
A vision for family practice in Canada
The CFPC strives to make The Patient's Medical Home (PMH) a reality in Canada through its advocacy of the PMH vision, a dedicated website with resources, and tools.

Best Advice Tools