Our Advocacy
A Prescription for Primary Care – Family Medicine Perspective
Canada's health care system succeeds when the foundation of primary care is strong.
The cracks in our system are widening and both health care professionals and patients are increasingly falling in.
Family doctor burnout is at record levels, the administrative burden is unmanageable and remuneration is often inadequate
Overworked family practices and emergency departments struggle to attract and retain workers
Family doctors need support to continue serving as the foundation of Canada's health care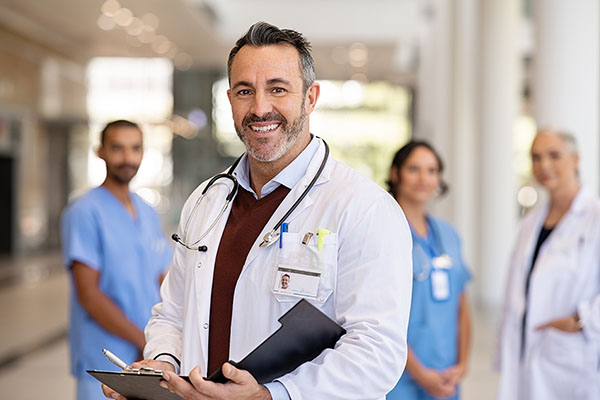 ---
Government Relations

2023


See all government relations outreach documents from 2012 to present in our archives.
2022

Position Statement on Locum Availability in Canada

As access to care is a growing problem in Canada, national licensure could rapidly address obstacles to primary care, prevent physician burnout, and avoid further staffing shortages.
Read the CFPC's statement.


The CFPC commits to equity and humility in Indigenous health

On November 10, 2022, the College of Family Physicians of Canada™ (CFPC), with the Indigenous Physicians Association of Canada, signed a formal Declaration of Commitment to Cultural Safety and Humility in Health Services Delivery for First Nations, Inuit, and Métis People in Canada.


Position Statement on Workforce Supply for Family Medicine in Canada

Canada is facing an alarming shortage of family doctors. Prior to the COVID-19 pandemic, almost five million people in Canada did not have a regular health care provider.
Read the CFPC's statement.


Position Statement on Physician Burnout in Canada

More than 60 per cent of family physicians have indicated worsening mental health since the onset of the pandemic, attributed to increased workload, a lack of work-life balance, and other challenges.
Read the CFPC's statement.


Position Statement on Administrative Support for Family Medicine in Canada

Family physicians are skilled generalists who provide high-quality, community responsive, and adaptive care across the life cycle, yet too much of their time is spent on administrative tasks and paperwork.
Read the CFPC's statement.


CFPC Statement: Remembering Joyce Echaquan on September 28th

September 28th marks the second anniversary of the preventable death of Joyce Echaquan, an Atikamekw woman, who died during a hospital stay in 2020 as a result of systemic racism.
Read the CFPC's statement.
2021

Strengthening Health Care – Access Done Right Position Statement

Access to high-quality comprehensive continuous primary care close to home is a foundational component of an effective health care system. Read our position statement, Access Done Right.


Joint Position Statement on the Role of Family Physicians in Long-Term Care Homes

The Joint Position Statement on the Role of Family Physicians in Long-Term Care Homes, produced in partnership with the Canadian Society for Long-Term Care Medicine, addresses current challenges in long-term care and calls for system-wide improvements across Canada. View the statement.


Joint position statement calling for funding to strengthen primary care

The CFPC, as part of a coalition of health care providers, released a joint statement calling for dedicated primary care funding in the federal budget and for the government to deliver on its commitment to ensure all people in Canada have access to a primary care provider. View the statement.


Family physicians are key to Canada's COVID-19 vaccination rollout

The CFPC is working with the Public Health Agency of Canada (PHAC) to highlight the role of family physicians as trusted advisers with their patients and their roles in COVID-19 vaccine administration. View the statement.
Policy Papers and Reports

2023
2022

Interprofessional Primary Care Teams: A literature review of potential international best practices

The CFPC has released a commissioned report investigating the available evidence about international best practices in implementing interprofessional primary care teams. Read the full report here and the separate executive summary here.


The Value of Socially Accountable Care—Investing in primary health care that supports pandemic recovery, promotes health equity, and improves health outcomes

The CFPC Social Accountability Working Group has produced a policy brief about the value of socially accountable care and how it can be implemented.


Buying Access Will Cost You: The Unintended Consequences of For-Profit Virtual Care

The CFPC is responding to the use of for-profit virtual care services in Canada with a new report.
2021

The Value of Continuity—Investment in Primary Care Saves Costs and Improves Lives

The CFPC has released an evidence summary demonstrating the importance of continuity of care and its influence on patient satisfaction, quality of life, and health outcomes.


Virtual Care in the Patient's Medical Home—New Report Available

This supplement to the Patient's Medical Home vision spells out the important role of virtual care in supporting patients' access to comprehensive and continuous care in a way that complements rather than replaces the in-person delivery of health care services.
Visit our
Archives
page for more documents.
Related Resources
The College works with elected officials and federal decision-makers in these offices on policy issues of importance to family medicine.