Preparing our Future Family Physicians
An educational prescription for strengthening health care in changing times
---
The Story of the Project
The status quo is no longer an option for us
Patients are having difficulty, too often not getting the care they need in an increasingly overwhelmed, complex, and fragmented health care system.
Family physicians are managing more complexity, co-morbidity, and sicker patients in the community. This is occurring against a dynamic backdrop of an aging population, social upheaval, an opioid crisis, new technologies, medical advances, health system changes with high rates of physician burnout.
Family physicians are key to improving access, coordination, and care delivery for our most pressing societal health issues and university-based residency programs play a critical role in recruiting and preparing the family physician workforce.
There is an urgent need for change – for an investment in family practice as a key element of health system transformation.
Within this dynamically changing environment, the Outcomes of Training Project asks and answers a central question: what must we do to prepare and better support our future family physicians?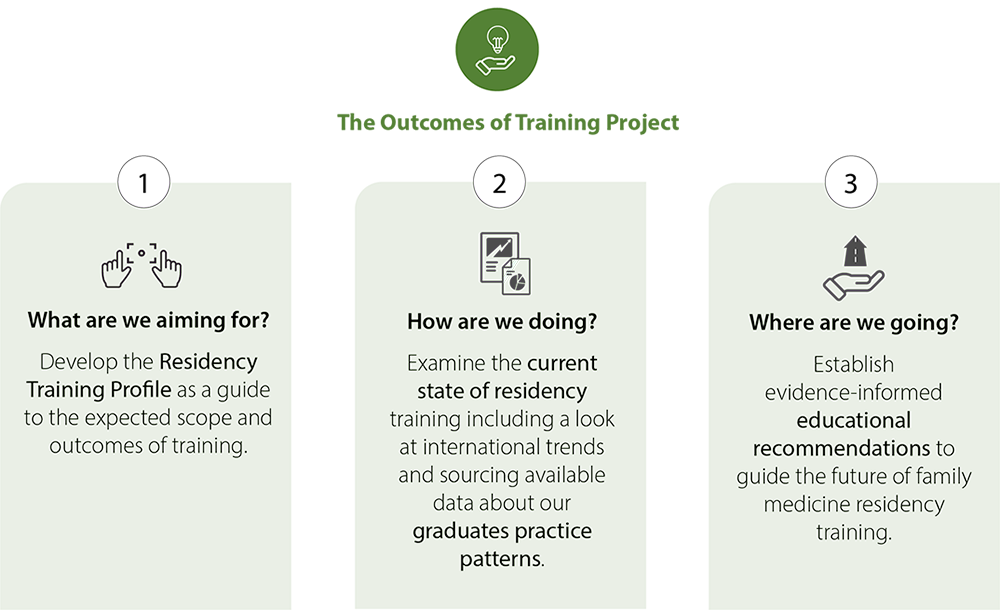 What does social accountability look like for family medicine training in the Canadian context? A logic model for change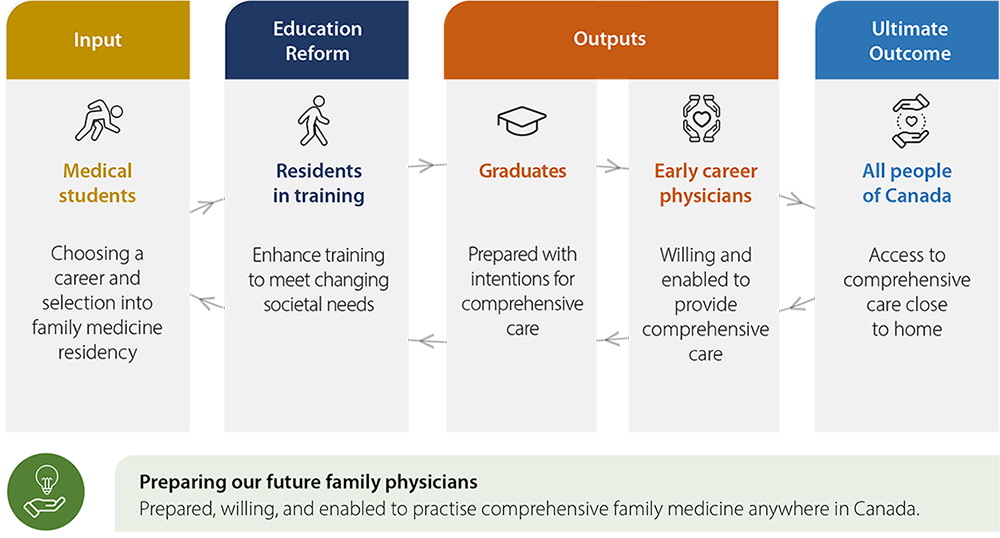 Our commitment as a discipline
Who we are, what we do, how we do it
Family Medicine Professional Profile
Residency Training Profile
CanMEDS-Family Medicine
CanMEDS-Family Medicine Indigenous Health
Assessment Objectives for Certification in Family Medicine
Patient's Medical Home Vision


Delivering on this commitment through residency education

Triple C Competency-Based Curriculum
Residency Training Profile

What we have learned – the bottom line
1. Family medicine is more than primary care.
2. Current data are inadequate to properly evaluate the impact of our graduates in the health care system.
3. The comprehensiveness of early career family physician practices is decreasing, and this is multi-factorial.
4. Early career practice choices are linked to training location, educational exposures, and the availability of supportive practices/ models.
5. Competence is necessary but insufficient for graduate preparedness.
6. There are training gaps and areas for educational enhancement requiring priority attention.
7. Family medicine training programs are under-resourced necessitating a longer training period.


Educational recommendations to guide future training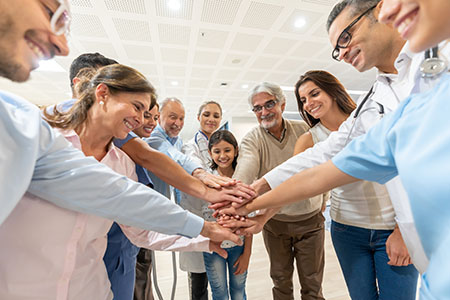 The CFPC presents evidence-informed
educational recommendations
focused on the
Residency Training Profile
as a shared vision of the future family physicians that Canada needs, outlining the resources and measures required for implementation. They call for greater accountability and evaluation of educational outcomes for continuous improvement toward the goal of social accountability.
This is a call to action for greater investment in the training of family physicians as a key part of the effort to ensure access to high quality, comprehensive care for patients. As a next step, the CFPC will pursue and support innovations that link education and health reform to improve access and health equity.
What's New
Outcomes of Training Project scholarship

Preparedness for Practice and Practice Choices: A Mixed-Methods Study on the Perspectives of Early-Career Family Physicians in Canada

Impacts of the Certificates of Added Competence credentialling program: a qualitative case study of enhanced-skill family medicine practice across Canada

January 2022
Preparing our Future Family Physicians

---

September 2021
The CFPC urges new federal government to strengthen access to primary health care

---

September 2021
Access to high-quality comprehensive continuous primary care close to home is a foundational component of an effective health care system
Key Messages and Frequency Asked Questions