The Besrour Centre for Global Family Medicine at the College of Family Physicians of Canada 2021: A Year in Review

Why Global Health
A Message from Dr. Francine Lemire
Never has a time for global cooperation been so critical. COVID-19 has shown the importance of knowledge sharing across borders and the benefits of family physicians worldwide collaborating and learning from each other to find solutions to global problems.

Until herd immunity is reached globally, COVID-19 variants will continue to emerge. This hit close to home for those at the Besrour Centre. Early last year, Dr. Patrick Chege, considered a founding father in family medicine in Kenya, died from COVID-19 while waiting for his first dose of the vaccine. Today, 80 per cent of people living in Canada have been vaccinated, many with third doses, while only 10 per cent of people in low-income countries have received even one dose.

Read our 2021 report to learn how the Besrour Centre is connecting with family physicians globally and creating a world where everyone can access quality primary care. Family physicians in Canada have knowledge and experience to share and we are proud to help improve health care around the world. We also learn from our colleagues in other countries, which is a significant benefit of our work at the Besrour Centre.

We hope you enjoy reading the highlights of our work in this year's report.

Sincerely,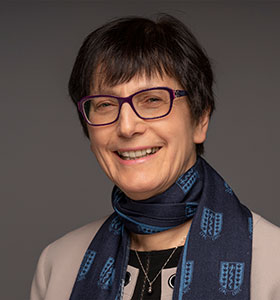 Francine Lemire, MD CM, CCFP, FCFP, CAE, ICD.D
Executive Director and Chief Executive Officer
The College of Family Physicians of Canada
---
Reflections on the Pandemic

A Message from Dr. David Ponka
The idea of the Besrour Centre for Global Family Medicine was born out of the tragedies of the Banda Aceh tsunami in Indonesia and the humanitarian crisis in Darfur Sudan, and then the Haitian earthquake of 2010.

Since the official opening of the Besrour Centre in 2015, we have matured both as a discipline and as a Centre. Today we not only advocate for family medicine and its role in improving patient care, but also for the models of care throughout the health system that are based on family medicine principles. Over the last six years our focus has shifted from building family medicine capacity in low-middle income countries to studying and promoting family-medicine led models around the world.

The global COVID-19 pandemic has reinforced the importance of our work. It continues to highlight that global problems require global solutions—it is not just an urgent moral issue. It is a global public health issue. The pandemic also highlighted gaps in and between health systems around the world. Capacity has been stretched everywhere, revealing areas where access remains problematic, and where integration at the system level is still lacking. At the same time, it revealed incredible innovation and perseverance.

As the pandemic continues to vacillate between infectious and chronic impacts, improved integration and the adaptability of family medicine will be key in all health system contexts, including Canada. All of Besrour Centre's initiatives are exploring or demonstrating how family doctors are leading at this time.

Our collective journey highlights that capacity building takes time, and determination. To continue this work, we need your ongoing engagement, partnership and help. We are deeply appreciative of the funding provided by the Foundation for Advancing Family Medicine (FAFM) and all our partners that helps to fuel our work. As always, we are indebted to Dr. Sadok Besrour for his vision and perennial support to build the Centre.

Together, we are a vibrant network of community-based leaders and partners that continue to learn from one another. Our collective efforts are strengthening family-medicine led models that are at the heart of health systems around the world and in turn improves equitable access to care.

Warm regards,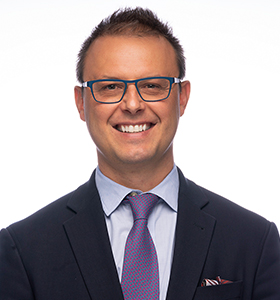 Dr. David Ponka
Director
The Besrour Centre for Global Family Medicine
---
A Spotlight on Impact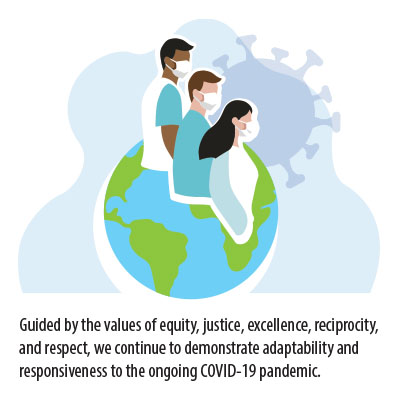 The Besrour Centre for Global Family Medicine (Besrour Centre) at the College of Family Physicians of Canada™ (CFPC) is a hub of international collaboration dedicated to our shared mission of advancing family medicine and promoting health equity. Driven by family physicians with a passion for global health, we are a connector for knowledge sharing and best practice around the world.

We are guided by our strategic plan (2018 to 2022) that places a strong focus on education, research, and community engagement to strengthen family medicine and primary care models worldwide.

At the outset of the pandemic, the Besrour Centre pivoted to better support the diversity of roles in family medicine to respond to the global COVID-19 pandemic. In 2021, we continued this strategic support with a particular focus on the importance of the integration of family medicine with public health and other specialities, and with community members and groups.
Why Global Family Medicine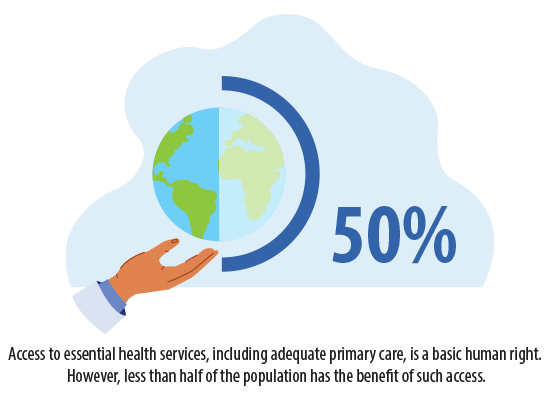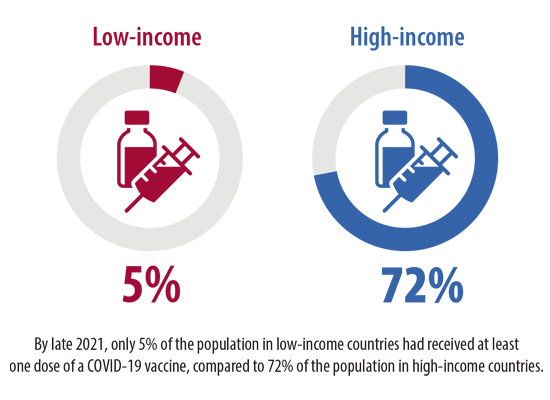 The Besrour Centre on the Global Stage
The Besrour Centre is based on collaborative learning and reciprocal sharing of lessons, efforts, and resources. Sharing and engaging with our family medicine and primary care colleagues around the world is what helps to drive our work. Throughout 2021, the Besrour Centre had the opportunity to participate in a number of conferences around the world, which offered an invaluable opportunity to learn together, build capacity, and develop partnerships that will strengthen family medicine globally.

• Today, our global family medicine community links 7 regions and is strengthened by members from 43 countries.

• The Centre hosts many working groups and teams comprised of health system and community leaders from Canada and member countries, and partners with international health organizations including the World Organization of Family Doctors (WONCA) and the World Health Organization (WHO).

Global Health at the Family Medicine Forum 2021

The annual Family Medicine Forum(FMF) is a highlight for both Canadian and international colleagues as they gather to learn about each other's ideas and perspectives and broaden their network.

The tagline for FMF 2021—Let's prepare for the future together—reflected the Besrour Centre's push to identify how the global community can better advance family medicine and equip itself for the challenges ahead.

Global health and the work of the Besrour Centre were highlighted during several FMF 2021 sessions:

The Four Principles in the Time of COVID-19: The Besrour Centre's Director Dr. David Ponka, together with Dr. Victor Ng, CFPC's Associate Director, Programs and Practice Support, explored the impact of family medicine's rapid and ongoing response to the pandemic and what defined practice means in a public health emergency.
Implementation Research for Family Medicine: Taking an idea to action: Two thought leaders from the Besrour Centre—Research Lead Dr. Sumeet Sodhi and Medical Education Research Fellow Dr. Trinidad Rodriguez—shared implementation research basics and practical applications in family medicine to help bridge the research-to-practice gap.
An Introduction to Advocacy: Dr. Samantha Green talked about the role of advocacy in family medicine and the important role of health care providers, and shared a six-step toolkit for launching evidence-based advocacy campaigns at the community and system level.
Global Perspectives on Family Medicine Education: Dr. Victor Ng and Dr. Marcelo Garcia Dieguez facilitated an informal hour-long chat during the FMF Teachers and Preceptors Knowledge Café that explored themes relating to family medicine principles during the pandemic

2021 Dr. Patrick Chege Memorial Research Award Poster Presentation

Dr. Patrick Chege, a leader in Kenyan family medicine, who passed away from COVID-19 in the early days of the pandemic, was a beloved Besrour Centre colleague. In honour of Dr. Chege, the Besrour annual poster competition is now named the

Initiated in 2017, the annual poster session celebrates global collaboration with an intent to inspire vibrant dialogue among FMF participants. There were a record number of submissions for this year's contest, each a prime example of the integrative learning that defines our discipline.

The winners of the 2021 Dr. Patrick Chege Memorial Research Award Poster Presentation:

The 23rd WONCA World Conference of Family Doctors

WONCA is a global not-for-profit professional organization representing family physicians and general practitioners from all regions of the world. In 2021, WONCA virtually hosted the 23rd World Conference of Family Doctors.

A highlight of the conference was the presentation of the first WONCA/Besrour Early Primary Care Researcher Prize, a program developed by the WONCA Working Party on Research and the Besrour Centre to encourage primary care researchers in low- and middle-income countries.

The winners were:

Dr. Beesan Maraqa from Palestine for Prevalence of SARS-CoV-2 antibodies among Palestinian population: A primary health centers-based, cross-sectional study.
Dr. I Md Ady Wirawan from Indonesia for Feasibility of using telehealth in primary care for risk stratification and health education among high-risk groups during COVID-19 pandemic.

The Besrour Centre also participated in three sessions, all focused on strengthening primary care through collaborative learning and global partnerships:

Strategies for Engaging Communities in Primary Health Care Globally: Besrour Centre Community Engagement lead Dr. Alan Pavilanis guided a workshop focused on the role of community engagement in family medicine and solicited feedback on how to improve it from a global perspective.
Global Health & Primary Care Policy: Family doctors in primary health care teams for universal health coverage: Dr. Shabir Moosa, Dr. Viviana Martinez-Bianchi, and Dr. David Ponka shared their experiences on developing family physician leadership and invited workshop participants to think about global family medicine at the policy level and the implications it has on achieving universal health coverage.
Maximizing Co-learning between Global FM Partners: Exploring innovative approaches: A dynamic workshop facilitated by the Besrour Centre's Medical Education lead Dr. Clayton Dyck as well as Dr. Innocent Besigye, Dr. Russel Dawe, and Dr. Katherine Rouleau, who explored the benefits of global co-learning to develop innovation and to research ideas that optimize the co-learning process.

Emirates Family Medicine Society 2021 Congress

The virtual Emirates Family Medicine Society (EFMS) 2021 Congress hosted physicians and health care professionals from around the world to expand their knowledge and develop long-term collaborative partnerships in family medicine. As a scientific partner at the Congress, the Besrour Centre contributed to four talks that focused largely on health system integration.

Global Health Networks and Collaborative Learning During the COVID-19 Pandemic: Dr. David Ponka underlined the need for sustained partnerships and multilateral efforts in combating global health crises now and in the future. During this and other sessions, Dr. Ponka also emphasized the need for urgent reflection on how family physicians view their discipline in relation to patients, public health, and the wider health system.
Adolescent Medicine and the Importance of Continuity of Care: Reflecting on the importance of continuity of care for this age group, Dr. Alan Pavilanis also described the characteristics of the adolescent patient and strategies to approach caring for adolescent patients.
Defining Family Medicine – the Canadian Journey: The focus of Dr. Nancy Fowler's presentation was to share the CFPC's approach to defining family medicine in relation to education leadership and standard-setting by tracing the evolution of family medicine as a discipline in Canada, how CFPC has defined and advanced it, and its plans for training.
Are We Producing the Type of Family Physicians our Countries Needs? Dr. Ivy Oandasan shared lessons learned from the Canadian context regarding the aim of family medicine residency programs, the use of
competency-based medical education approaches in the design of family medicine training, and the importance of a purposeful evaluation plan to acquire data to support family medicine advocacy.

"Global family medicine partnerships are more important than ever. The pandemic has reinforced that to deliver effective person-centred care and improve health equity, we need primary care hubs that are close to home and provide access to strong, multi-professional teams that function seamlessly with public health services, community supports, and hospitals. This requires both education for health professionals and engagement of health system planners. It is best achieved through our collective efforts."

Dr. Harris Lygidakis, CEO, WONCA