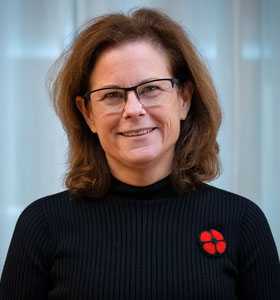 Dr. Christie Newton
CCFP, FCFP
Past President
Port Moody, British Columbia
Dr. Christie Newton graduated from medical school at Queen's University in Kingston, Ontario, in 1995, and completed her family medicine residency in 1997. She earned her Certification in the College of Family Physicians of Canada (CCFP) in 1997 and Fellowship in the College of Family Physicians of Canada (FCFP) in 2011.

Dr. Newton started her career at the Queen's Family Practice Teaching Unit in 1997 and completed a fellowship in women's health in 1998. In 2001 she moved to the West Coast and joined the University of British Columbia (UBC)'s Family Practice Teaching Clinic in Vancouver. In 2005 she became an academic faculty member of UBC's Department of Family Practice where she now serves as Associate Head, Education and Engagement. Dr. Newton continues to practise and teach at the UBC Health Clinic where her time is dedicated to building capacity for community-based clinical education within team-based care models to enhance primary care in BC.

In addition to having filled numerous leadership roles with other academic and health care organizations, Dr. Newton served on the Board of Directors of the British Columbia College of Family Physicians from 2010 to 2018, including a term as President from 2015 to 2017. Dr. Newton has been a member of numerous CFPC committees, including the Patient Education Committee, the National Committee on Continuing Professional Development, the CanMEDS–FM Working Group on the Collaborator Role, and the Patient's Medical Home Steering Committee, and she now sits on the Governance Advisory Committee and the Mainpro+ Standards Working Group. She served on the CFPC Board from 2014 to 2015, was a Director-at-Large from 2018 to 2020, and filled the role of Secretary-Treasurer from 2020 to 2021.

Dr. Newton was presented with the UBC Faculty of Medicine Distinguished Service in CPD Award in 2017 and the Doctors of BC Award for Contribution to CPD in 2020, both in recognition of her leadership in the field.

Get to know President Christie Newton in under two minutes:

What do you hope to achieve as President of the CFPC?

Why is it important the College retain its high standards in training?

How do you hope to engage family doctors about the work the College goes on its behalf?

What advice would you give family doctors just starting their practice?