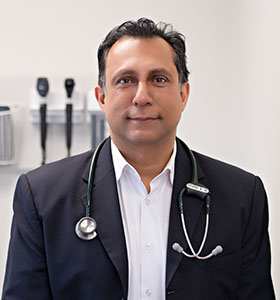 Dr. Alykhan Abdulla
MD, LMCC, CCFP, Dip Sport Med (CASEM), FCFP, CTH (ISTM), MPLc, CCPE, ICD.D
Director-at-Large
Manotick, Ontario
Dr. Alykhan Abdulla works in comprehensive family medicine in Manotick, Ontario, doing house calls, long-term care, palliative care, addictions, cosmetic and sports medicine. He received his Certification in the College of Family Physicians of Canada (CCFP) in 1994 after going to medical school at the University of Calgary and completing this family medicine training at the University of Toronto.

He is a Fellow of the College of Family Physicians. He has specialty designations from the Canadian Academy of Sports and Exercise Medicine; the International Society of Travel Medicine; the Canadian Society of Physician Executives; the Schulich Leadership Programme, and the Institute of Corporate Directors.

In addition to his medical practice, Dr. Abdulla has taught, coached, and mentored medical students and family medicine residents for more than 20 years as an assistant professor at the University of Ottawa. He is the Director of the Leadership Curriculum at the University of Ottawa Undergraduate Medicine. He is the author of more than 180 publications and has conducted more than 120 media interviews.

Dr. Abdulla has more than 15 years of leadership experience, building collaborations as Chair of the Section of General and Family Practice in the Ontario Medical Association (OMA); chair of OMA District 8; President of the Ottawa Academy of Medicine and Medical Director for The Kingsway Health Centre, among others. He is or has sat on various not-for-profit boards including the Bruyere Foundation, Ontario Medical Foundation, The Rideau Club, Ottawa Regional Cancer Foundation, Eastern Ontario Regional Lab Association, Equipe Sante Ottawa Ontario Health Team, and Shepherds of Good Hope.

He is honoured to have been awarded the Outstanding Family Physician of Eastern Ontario and Award of Excellence from the CFPC, Advocate for Students and Residents from the OMA, Professionalism Award from The University of Ottawa Faculty of Medicine, the QEII Diamond Jubilee Service Medal and the Top 40 Under Forty from the Ottawa Business Journal.

Dr. Abdulla believes in authenticity, acknowledging his personal struggles with mental health and finding joy in medical practice through work-life balance. He is passionate about family medicine. He brings 15 years of leadership experience to the CFPC Board of Directors.