Linking Learning Exercises
Linking Learning exercises are self-administered, semi-structured exercises. They challenge physicians to look at day-to-day activities as learning opportunities. The Linking Learning submission forms help identify a question, and then guide the reader through a series of critical inquiry and practice reflection exercises that lead to answering the question.
Each completed Linking Learning exercise is eligible for five Mainpro+® certified credits. There is no limit to the number of exercises that can be completed in a cycle.
How to complete a Linking Learning exercise
All Linking Learning forms are available on the Mainpro+ portal. Linking Learning to Practice, Teaching, Research, and Administration are categorized as certified Self-Learning activities; Linking Learning to Assessment can be found under certified Assessment activities.
Here's how it works:
Formulate a question to ask or a scenario to describe and fill out the online form.
At any point during the process, it's possible to save the form to complete at a later time.
Take the time to assess impact of a decision (e.g., 6 to 12 weeks), then return to holding area to complete the form.
Click "Submit" to complete.
Your work helps flatten the COVID-19 pandemic curve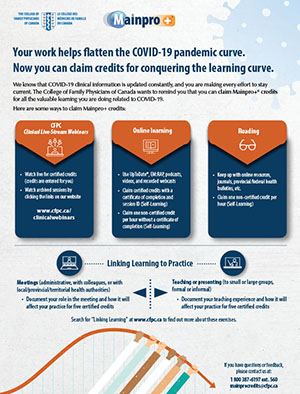 Do not use this form if you are claiming Mainpro+ certified credits for these activities as they require specific forms:
Traineeships and fellowships
Writing examinations
University degree programs
Audits and QA activities
Provincial practice review programs
Eligible activities
Linking Learning exercise
Clinical/non-clinical activity

Linking Learning to Practice

Volunteering in a resource-poor setting
Attending a non-certified conference to stimulate reflection

Linking Learning to Research

Preparing a manuscript for publication
Conducting research relevant to family medicine
Preparing for and presenting at conferences
Preparing a poster for presentation
Researching a new treatment protocol

Linking Learning to Administration

Participating in a committee
Participating as a planning committee member

Linking Learning to Assessment

Reviewing clinical practice guidelines
Reviewing a manuscript for a medical journal
Reviewing family medicine curriculum
Participating on an accreditation survey team

Linking Learning to Teaching

Teaching (clinical or academic)
Developing curriculum for a medical education event
Lecturing
Working as an educational leader such as programmer or administrator
Example Linking Learning questions
You recently attended medical rounds on breast cancer. You learn that the local breast cancer screening program is using a different set of recommendations than those used in your office. You ask yourself: "Which recommendations apply best to my patients and how can I be sure that all of my eligible patients are being screened by either myself or the local program?" Document the process and resources you use to answer this question in a Linking Learning to Research form.
You were a surveyor for an accreditation survey visit of another university's family medicine program. You can describe the outcome of this activity in a Linking Learning to Assessment exercise.
You would like to adopt the Patient's Medical Home (PMH) model for your clinic. You decide to lead your current colleagues and staff through the transition. Outline your plan to adopt the PMH model in a Linking Learning to Administration exercise to earn credits.
You spent six months volunteering in the Philippines providing prenatal care to low-income families. Document how this experience will impact your current practice in a Linking Learning to Practice exercise.
You conducted a two-hour, hands-on workshop on intrauterine device insertion at Family Medicine Forum. After reviewing the participant evaluations, you noted several attendees would have liked more interaction with the speaker. Use a Linking Learning to Teaching exercise to review the feedback and document how you could restructure the workshop to allow more time for participant interaction.