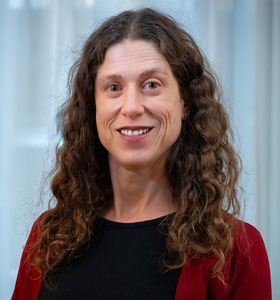 Dr. Helen Cuddihy
MD, CCFP, FCFP, FRACGP
Director-at-Large
Edmonton, Alberta
Dr. Helen Cuddihy started the Centre de Santé Communautaire Saint Thomas in the heart of Edmonton's francophone community in 2006, providing care to the area's diverse populations. She received her Certification in the College of Family Physicians of Canada (CCFP) in 2000 after graduating from medical school at the Université de Sherbrooke in 1998. She completed her residency at Dalhousie University. Following her residency, Dr. Cuddihy worked as a full-scope family physician in Edmonton, Alberta, and spent six years as a family physician in Australia while teaching and researching in the areas of clinical competence evaluation methodologies and assessment of trainees learning needs.

An experienced, innovative, and authentic leader, Dr. Cuddihy has centred her clinical work on child, adolescent, and women's health, with a special interest in mental, reproductive, and physician health. In contrast, she has focused her administrative work on organizational and staff development, innovative service delivery models, and sound fiscal and clinical management.

She has also spent her time developing education, health promotion, and outreach activities in partnership with the multiple francophone organizations within the greater community.

Dr. Cuddihy served as a resident member of the Canadian Family Physician's Journal Editorial Advisory Board, and as Chair of the resident section of the CFPC. She contributed to the CFPC key features for the Certification exam working group and as a Mainpro+® reviewer. Dr. Cuddihy has been a Certificate of Added Competency and Fellowship reviewer for many years and sits on the Alberta College of Family Physician's Continuing Professional Development Group's Advisory Committee.

She enjoys mentoring medical students, residents, and allied health professionals and hopes to help her students and trainees find the same passion for family medicine as she did. Dr. Cuddihy brings authenticity, passion, and a desire to make a difference to the CFPC.