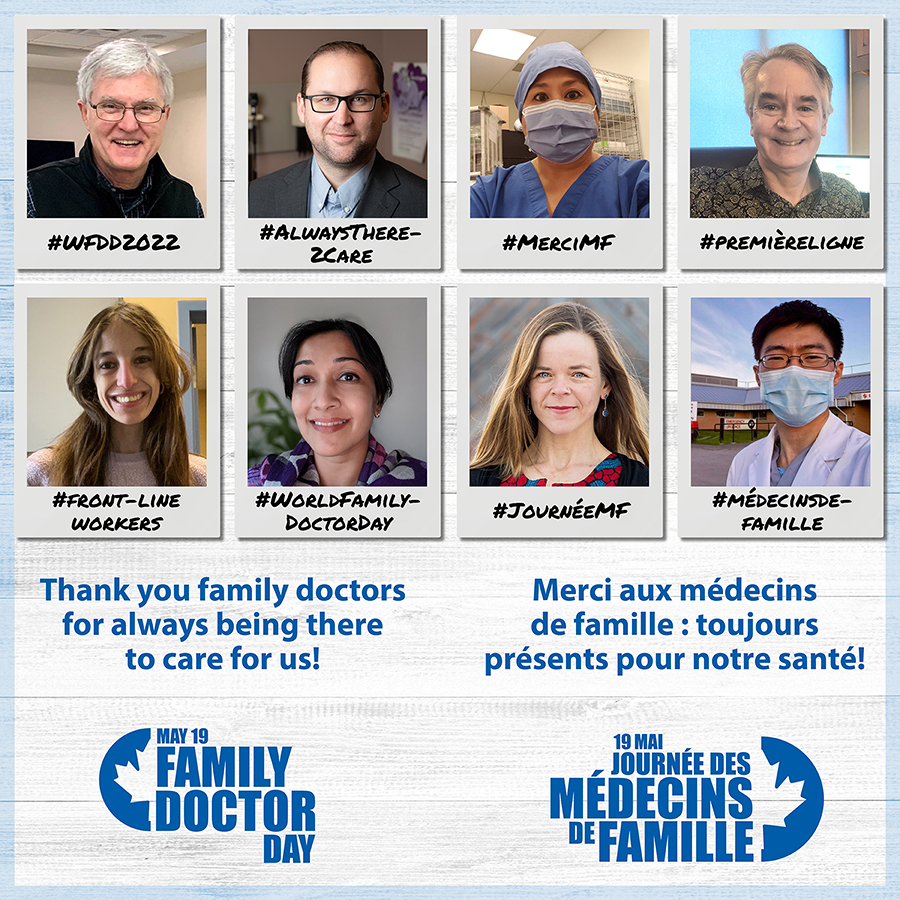 Join family medicine colleagues around the world and celebrate
Family Doctor Day
May 19, 2022

The College of Family Physicians of Canada (CFPC) is pleased to align with the World Organization of Family Doctors (WONCA) to acknowledge the outstanding work of family physicians and the central roles they play in our communities and in our health care system.

On May 19th the CFPC recognizes the hard work and dedication of all family physicians across Canada—in every community, big and small—who are on the front lines of care and often the first point of contact for patients.

Throughout the pandemic, family doctors have bravely adapted to accommodate the needs of their patients by incorporating virtual care visits for patients; lending their expertise to hospitals and long-term care homes; volunteering to support the medical community outside their regular practices; advocating for enhancements to the health care system; and educating people about the importance of following public health recommendations to prevent the community spread of COVID-19. Above all, as front-line workers, family physicians put the needs of their patients and communities first, and for this we salute them.

Join us in the celebration on May 19th:
Follow us on Twitter and show your support by using the hashtags #WorldFamilyDoctorDay, #ThankYouFamilyDocs and #AlwaysThere2Care
Share these social media posts through your social media channels:
#WorldFamilyDoctorDay is on May 19! Help us thank family doctors for their critical role as front-line workers. #WFDD2022 #ThankYouFamilyDocs #AlwaysThere2Care
We're celebrating Family Doctor Day on May 19th. Show your support by thanking family docs for all their hard work throughout the pandemic.
#ThankYouFamilyDocs #AlwaysThere2Care #WFDD2022
Thank family doctors for their hard work and the sacrifices they make to care for us.
#WFDD2022 #ThankYouFamilyDocs #AlwaysThere2Care
Happy #WorldFamilyDoctorDay to family physicians around the world! We appreciate your dedication to the advancement of family medicine #WFDD2022 #ThankYouFamilyDocs @aafp @WONCAWorld