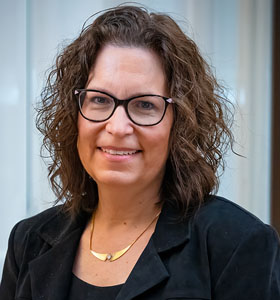 Dr. Carrie Bernard
MD, MPH, CCFP, FCFP
President- Elect
Brampton, Ontario
Current Director holding the office of the Secretary-Treasurer
Nominee for 2023–2024 Director holding the office of President-Elect
Dr. Carrie Bernard was elected in 2018 for a three-year Director-at-Large term. She was then re-elected by CFPC members in 2021 for a second three-year Director-at-Large term and subsequently elected in 2022 as a Director holding the office of the Secretary-Treasurer.
The Board has benefited greatly from Dr. Bernard's skills, involvement, and contributions including:
Meeting the needs of the CFPC members and serving patients in Canada
Showing interest in governance and having great attention to detail
Offering thoughtful and unique perspectives based on her experience with academic initiatives, curriculum and remediation initiatives, activities abroad, and the provision of comprehensive care
Encouraging diversity in leadership through outreach activities and ensuring issues of equity and diversity are regularly considered by the Board
Committing to social justice and providing ethics expertise to all discussions
Dr. Bernard has many skills valued by the Board including practising comprehensive family medicine, teaching, patient and health care advocacy, systems thinking, risk management, ethics, stakeholder engagement, and strategic planning.
Bio
Dr. Carrie Bernard received her medical degree from McMaster University in 1997 and completed her family medicine residency at the University of Toronto (U of T). She went on to complete a three-month fellowship in low-risk obstetrics at U of T and was awarded Certification in the College of Family Physicians of Canada in 1999. She became a Fellow of the College in 2013.
Dr. Bernard has practised comprehensive family medicine since 1999 in Brampton, Ontario, with the Queen Square Family Health Team. She began teaching medical students and residents in 2003 at her clinic office and at the William Osler Health System, where she is an active staff member.
Dr. Bernard is an assistant professor in the Department of Family and Community Medicine at U of T and an assistant clinical professor in the Department of Family Medicine at McMaster. She has been involved in family medicine residency accreditation at both universities and served as Associate Program Director, Curriculum and Remediation, for the postgraduate program at U of T from 2014 to 2019.
Passionate about community and global health, Dr. Bernard worked with Public Health Ontario from 2012 to 2019, where she provided expert advice on communicable diseases. She also worked with Médecins Sans Frontières in northern Uganda from 2004 to 2005. Her research interests focus on ethics in medical practice and she is a member of the Humanitarian Health Ethics Research Group, a multidisciplinary team of researchers and practitioners in Canada who explore ethical issues related to humanitarian health care work. She served as a member of the Ontario COVID-19 Bioethics Table, providing expert advice on bioethical issues to the Ontario Ministry of Health.
Dr. Bernard is a reviewer for 
Canadian
Family Physician, and she previously served on the CFPC's Section of Teachers Council and the Member Interest Group Section Council. In 2013 the Ontario College of Family Physicians recognized Dr. Bernard as a Regional Family Physician of the Year.