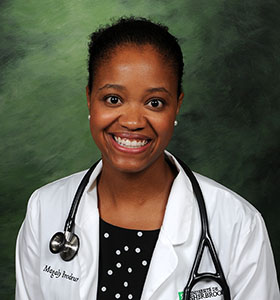 Dr. Magaly Brodeur
MA, PhD, MD, CCFP
Director-at-Large
Sherbrooke, Quebec
Dr. Magaly Brodeur practises family medicine at the Bishop University's Health Clinic, in Quebec. She received her Certification in the College of Family Physicians of Canada (CCFP) in 2020 after completing her medical degree and family medicine residency at the University of Sherbrooke.

In addition to her medical practice, Dr. Brodeur is a clinician researcher and assistant professor with the Faculty of Medicine and Health Sciences at the University of Sherbrooke. She is also a physician-research lead at the Jacques-Cartier Family Medicine Group (Sherbrooke, Quebec). Dr. Brodeur is deeply involved in the community. She has received many awards, including a CFPC Medical Student Leadership Award in 2017, and numerous scholarships and grants.

Dr. Brodeur is passionate about health policy. In her research work, she is focusing on the improvement of public policy and health care for vulnerable people, particularly those with behavioural addictions.

Dr. Brodeur believes in the importance of diversity and inclusion as well as health equity. She brings energy and a dynamic perspective to the CFPC Board of Directors.