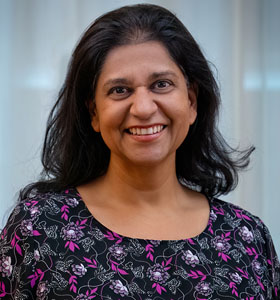 Dr. Meenakshi Natarajan
MD
Director-at-Large
Mississauga, Ontario
Dr. Meenakshi Natarajan completed her medical degree and residency at Dalhousie University in 2010 and 2012 respectively, and was awarded Certification in the College of Family Physicians of Canada in 2012. She has a bachelor of science in biology, a master of science, physiology, and biophysics, and she graduated from a foundation course in occupational medicine.

Dr. Natarajan has experience providing care to people in rural and remote areas as well as those who are vulnerable. She offered solo comprehensive care in family medicine in New Brunswick for seven years and currently works in remote locations as a locum hospitalist (Weenebayko Health Authority in Moose Factory, and Meno-Ya Win Health Center, Sioux Lookout First Nations Health Authority, both in Ontario) and a locum physician and operating room assistant in the Grey Bruce Health Authority in Owen Sound, Ontario. She is also a physician for Onyx Urgent Care in Kitchener, Ontario.

Prior to practising medicine, Dr. Natarajan was the faculty/school director for the Northumberland College massage therapy program and a physiology/biophysics teaching assistant at the Dalhousie University Faculty of Medicine. She also worked with Dalhousie University's student disability services, helping students with learning disabilities in multiple health professions. She currently teaches clinical skills at the University of Toronto and is an integrative small group facilitator for medical students at Western University.

She volunteers on the Member Relations, Advocacy and Communications Committee at the Ontario Medical Association, and sits on the Complaints and Registration Committee of the New Brunswick College of Physicians and Surgeons.

Dr. Natarajan offers a creative and solution-focused approach to care and promotes equity, diversity, and inclusion as an individual from a racialized background. She currently lives in Mississauga, Ontario.