There's a certain sense of job satisfaction that comes from working for a not-for-profit organization such as the College of Family Physicians of Canada (CFPC). CFPC employees are making a difference for the College's more than 42,000 members, their patients and to the health care system—ultimately family, friends, and neighbours.
Joining the CFPC's team of dedicated professionals means helping the College achieve its mission: leading family medicine to improve the health of all people in Canada. The CFPC does this by setting standards for education, certifying and supporting family physicians, championing advocacy and research, and honouring the patient-physician relationship, which is core to the profession.
With a broad organizational mandate, the CFPC offers unique career opportunities to apply knowledge, skills and experience, in a meaningful way.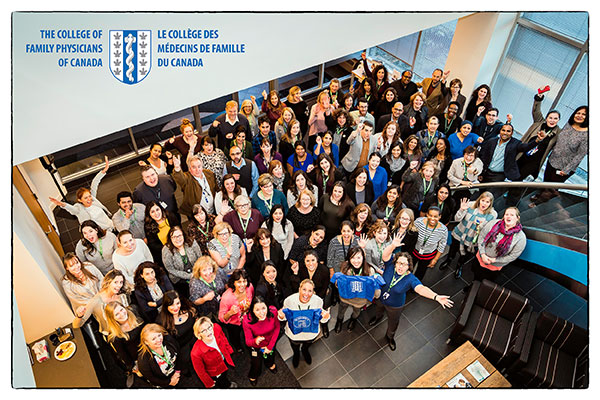 Benefits of working at the CFPC
Some of the employee benefits offered by the CFPC include:
Comprehensive group benefits:
Extended health, vision, and dental coverage, life and accidental death and dismemberment (AD&D), and an employee and family assistance program (EFAP). The CFPC pays 100% of all premiums, except LTD which is 100% employee paid.
Vacation:
Minimum three weeks of vacation to start, plus bonus days (including office closure between Christmas and New Year's Day), personal days, and appointment time.
Pension:
A defined benefit pension plan; the CFPC matches employee contributions, subject to government regulations.
Work-life balance:
Flexible start times and work from home option for eligible positions.
How to apply
To apply for current openings at the CFPC, forward a cover letter and résumé to [email protected] .
The CFPC thanks all applicants for their interest; however, only those under consideration will be contacted.
The CFPC is committed to creating and fostering a caring, respectful, and inclusive workplace for all. The College is an equal opportunity employer that, in addition to not discriminating against race, gender, sexual orientation, or any of the other prohibited grounds under the Ontario Human Rights Code, does not discriminate against people with disabilities. Accommodations for job applicants and/or candidates during the hiring process are available upon request.
Consider a career with the CFPC
Here are some of the highlights of working at the CFPC:
The CFPC is committed to creating and fostering a caring, respectful and inclusive workplace for all. It's a diverse workplace where skills and expertise are respected regardless of language, culture, country of origin, or religious beliefs.
In October 2017—for the first time and on the first attempt—the CPFC became a Certified Great Place to Work© based on the results of an anonymous Trust Index employee survey. The CFPC continues to work to maintain its certification as a Great Place to Work, and continually improves people practices, and celebrates successes.
The CFPC offers meaningful work and standards that support its organizational values of caring, learning, collaboration, respect, responsiveness, integrity, and commitment to excellence.
The CFPC encourages and supports lifelong learning through professional development opportunities.
Employees of the CFPC work together as a team to make the organization stronger. The College recognizes that everyone has expertise; the CFPC offers many opportunities for employee engagement through committees and working groups.
As a member-based organization, the CFPC strives to provide outstanding customer service to members and recognizes that it requires the collaboration of all employees.
Alongside their hard work, employees enjoy many fun social activities, sponsored by the Staff Connections Committee. Employees regularly participate in fundraising events for charities of their choice.
The CFPC offers a professional work environment with a business casual dress code, including denim days on Fridays.
Some positions offer the opportunity to travel locally, nationally, and internationally.
Employee rewards and recognition include: length of service awards, retirement celebrations, an annual staff appreciation event, department holiday lunches, welcome lunches for new employees and their manager, plus an end-of-year holiday bonus.