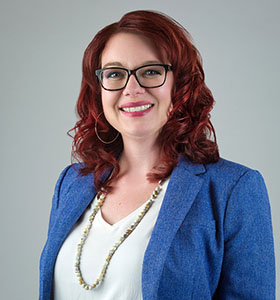 Dr. Amanda Condon
MD, CCFP, FCFP
Director-at-Large
Winnipeg, Manitoba
Dr. Amanda Condon completed her medical degree and bilingual family medicine residency training at the University of Manitoba (U of M). She received her Certification in the College of Family Physicians of Canada (CCFP) in 2008 and Fellowship (FCFP) in 2019.

Dr. Condon practises comprehensive rural family medicine in Notre Dame de Lourdes, Manitoba. She continues to practice intrapartum obstetrics with the Family Medicine Obstetrics group at St. Boniface Hospital in Winnipeg. She also supports Charleswood Care Centre, a long-term care facility in Winnipeg.

In addition to her clinical work, Dr. Condon serves as an associate professor with the Department of Family Medicine, Max Rady College of Medicine, at U of M. With a commitment to family medicine education and supporting medical learners, she proudly champions joy in work and interprofessional collaboration as foundational to excellence in primary care. Since 2019 she has served as Associate Dean, Postgraduate Student Affairs and Wellness and has recently become the Director of Immunization with the Rady Faculty of Health Sciences.

Dr. Condon has shared her commitment to medical leadership by serving with numerous committees. From 2018 to 2019 she served on the CFPC Undergraduate Education Committee and is currently serving as the CFPC representative with the Association of Faculties of Medicine of Canada's Culture of Academic Medicine project - Advisory Group. With a drive to support community service, Dr. Condon has volunteered with organizations including Canadian Women in Medicine, the Winnipeg Interprofessional Student Health (WISH) Clinic, and the Elmwood Community Resource Centre.