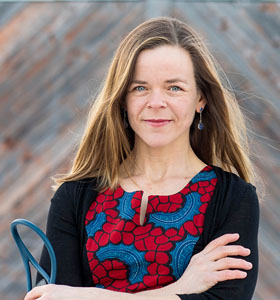 Dr. Sarah Cook
MD, CCFP, FCFP, CCPE, CHE
Director-at-Large
Yellowknife, Northwest Territories
Dr. Sarah Cook is a community-based family physician in Yellowknife, Northwest Territories (NWT). After completing medical school at Dalhousie University and her family medicine residency at the University of Ottawa, she received her Certification in the College of Family Physicians of Canada in 2008 and Fellowship in 2018.

The opportunity to live in Canada's North, work with and learn from Indigenous communities, and practise full-scope family medicine inspired Dr. Cook to move to Yellowknife in 2008. Enhancing access to culturally safe care for patients close to their home communities and helping physicians find innovative solutions to health care challenges are driving forces in her work.

Currently Dr. Cook provides primary care to a remote Indigenous community, both in person and remotely. Her clinical work in Yellowknife includes reproductive health, maternity care, and GP-oncology, working as part of a cancer care team to enable patients in the Northwest Territories to receive chemotherapy closer to home.

Over the past decade Dr. Cook has advanced her leadership skills with formal training through the Canadian Medical Association's Physician Leadership Institute, the University of Toronto, and the University of Alberta. She served as medical director of the Yellowknife Region from 2015 to 2016 and as the inaugural Territorial Medical Director of the Northwest Territories Health and Social Services Authority from July 2016 to November 2020—a tenure that saw her become a key figure in the Northwest Territories' response to the COVID-19 pandemic. She is currently the Clinical Lead of Choosing Wisely NWT and MAiD in the NWT. In addition to her clinical and leadership roles, she holds academic appointments in the faculties of medicine at the University of Calgary and University of Alberta.

Before being elected to the Board of Directors, Dr. Cook's involvement with the College of Family Physicians of Canada included participating on the Patient's Medical Home Steering Committee and as the Northwest Territories representative on the Advisory Committee on Family Practice.