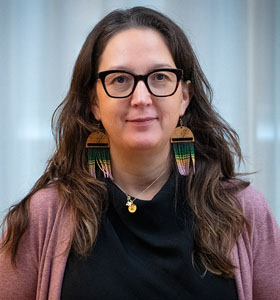 Dr. Sarah Funnell
MD, MSc, CCFP, FRCPC
Director-at-Large
Ottawa, Ontario
Current Director-at-Large
Nominee for second term 2023–2026 Director-at-Large*
Dr. Sarah Funnell was appointed by the Board as a Director-at-Large in 2020. She was further ratified by CFPC members for a three-year Director-at-Large term.
The Board has benefited greatly from Dr. Funnell's skills, involvement, and contributions including:
Being Indigenous and active in leadership roles related to Indigenous health and equity, at a time when the Recommendations of the Truth and Reconciliation Commission of Canada are a societal priority. (In November 2022 the CFPC participated in a Declaration of Commitment with the Indigenous Physicians Association of Canada to Cultural Safety and Humility in Health Services Delivery for First Nations, Inuit, and Métis People in Canada.)
Encouraging systems thinking and strategic direction
Contributing governance knowledge and experience
Offering comments and feedback from a respected place of emotional intelligence
Underscoring the interconnectedness between public health and family practice during the COVID-19 pandemic
Contributing a level of thoughtfulness that has impacted the CFPC committing to being an anti-racist organization
Representing much of the CFPC's membership, as an early-career physician
Bio
Dr. Sarah Funnell is a First Nations family physician, public health specialist, and clinician scientist. Her background is mixed Algonquin and Tuscarora and she grew up among the Mississaugas of Alderville First Nation. Her Algonquin name, Minwanimad, means pleasant breeze.
Dr. Funnell is the Founding Director of the Centre for Indigenous Health Research and Education, Faculty of Medicine, University of Ottawa (U of O) and an Assistant Professor in U of O's Department of Family Medicine with a cross appointment to the School of Epidemiology and Public Health. She is also the Director of Indigenous Health within the Department of Family Medicine at Queen's University.
Dr. Funnell was an associate medical officer of health at Ottawa Public Health until April 2022. She spent most of her time supporting the local pandemic response and promoting vaccine acceptance in Indigenous communities.
Dr. Funnell maintains her passion for family medicine by providing primary care services to underserved communities in and around the Ottawa area.
After completing medical school at U of O, Dr. Funnell pursued her dual interests in family medicine and epidemiology through the five-year Public Health and Preventive Medicine Residency Program. She was awarded Certification in the College of Family Physicians of Canada in 2015. She became a fellow of the Royal College of Physicians and Surgeons of Canada (Royal College) in 2018, while also completing a masters of science in epidemiology that same year.
Dr. Funnell has a passion for leadership and good governance. Her volunteer work currently supports the CFPC, Royal College , Medical Council of Canada (MCC), and the Association of Faculties of Medicine of Canada to improve Indigenous health curriculum in medical education programs. She is the past co-chair of the CFPC's Indigenous Health Committee.
Dr. Funnell is an executive and founding member of the National Consortium for Indigenous Medical Education where she co-chairs the Admissions and Transitions working group. Since 2021 she has been a Council member of the MCC. She is also a member of the Indigenous Health Advisory Committee at the Royal College. She is past board director of the Indigenous Physicians Association of Canada.
Dr. Funnell lives in Ottawa with her husband and three daughters. In her spare time, she speaks to her plants.
*Role change due to a board-approved deferral (July 20, 2023).