The College of Family Physicians of Canada (CFPC) engages College members and subject matter experts to develop program and practice resources and tools to support family physicians.
The CFPC's Programs and Practice Support (PPS) department evaluates and updates these resources to ensure their relevancy to family physicians and patients.
Contact PPS for more information or to share or collaborate on resources.
Practice tools and guidelines to help family physicians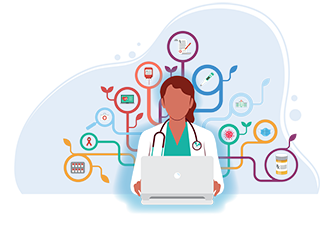 CFPCLearn
The CFPC's new learning platform has a wide range of Mainpro+® certified professional development activities combined with the ease of direct credit entry. Earn up to 100 Mainpro+ credits—visit us today!
---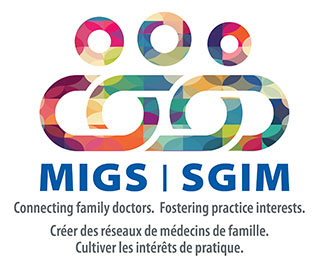 Member Interest Groups Section (MIGS)
The Member Interest Groups Section (MIGS) connects CFPC members across Canada who have similar practice interests to foster professional peer connections and to explore/address issues that affect family medicine.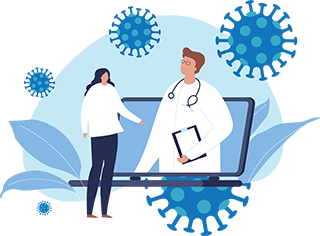 COVID-19 E-Learning: An online course for family physicians
Our interactive e-course has six modules on COVID-19 with topics such as clinical presentation, diagnosis, and treatment.
---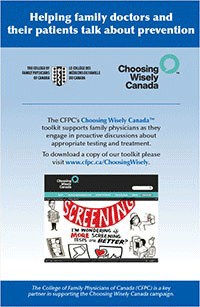 The Choosing Wisely Canada Toolkit
A multimedia toolkit that equips health care providers with videos, printable posters, and infographics for their clinics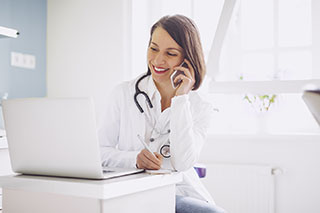 Practical Talks for Family Docs
These live-stream webinars are eligible for up to one Mainpro+ credit each. See what your colleagues are learning about on Tuesdays at 12 p.m. (ET).
---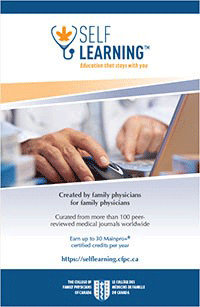 A learning tool developed by the CFPC as part of its CPD offerings, with access to cutting-edge information curated from more than 100 peer-reviewed medical journals