Choosing Wisely Through Primary Care
A timely e-course series on managing viral infections during the pandemic is available now!

A new four-part e-course on
CFPCLearn
helps family doctors educate patients about what's appropriate and inappropriate for managing a viral infection during the fall and winter in the time of COVID-19. This e-course, developed in collaboration with Choosing Wisely Canada, covers both virtual and in-person care delivery.
Using Antibiotics Wisely: A Practical Approach to Managing Respiratory Tract Infections in the Era of COVID-19 and Virtual Care

Module 1: Influenza-like Illness, Bronchitis, and the Common Cold
Recognizing the criteria, considerations, and investigations associated with these respiratory tract infections that help determine the need for in-person assessment in the context of COVID-19.
Module 2: Acute Otitis Media
Focusing on acute otitis media, learners will be able to recognize the criteria, considerations, and associated investigations that will help determine the need for in-person assessment during COVID-19 as well as antibiotic choices.
Coming soon!
Module 3: Pharyngitis
Looking at pharyngitis, learners will be able to recognize the criteria, considerations, and associated investigations to determine in-person assessment and antibiotic choices.
Module 4: Sinusitis
Looking at sinusitis and its criteria, considerations, and associated investigations in the context of COVID-19.
About CFPCLearn
The CFPC's new learning platform has a wide range of Mainpro+
®
certified professional development activities combined with the ease of direct credit entry. Earn up to 100 Mainpro+ credits. Register at
https://cfpclearn.ca/
.
---
Using Antibiotics Wisely
The Cold Standard 3.0 – A Toolkit for Using Antibiotics Wisely for the Management of Respiratory Tract Infections in Primary Care.
Using Antibiotics Wisely in Long Term Care
poster and practice statements aim to reduce unnecessary antibiotic use for asymptomatic bacteriuria in LTC.
In response to members' feedback, selected Using Antibiotics Wisely patient resources are now available in Punjabi, Simplified Chinese, and Spanish. Select a link below to download a PDF resource.
Antibiotics: Sorry
Antibiotics: Three questions to ask your health care provider
Antibiotics: Delayed Prescription
Disclaimer
The translation of selected Using Antibiotics Wisely patient resources into languages other than English and French represents a pilot initiative of the CFPC. The CFPC has attempted to ensure the original materials in English have been translated accurately; in the event that there is any inconsistency between the English and other translated versions, the English version shall prevail.
You can also integrate the Viral Prescription Pad and Delayed Prescription Pad in your existing EMR. The e-forms and accompanying instructions were co-developed by OntarioMD and Choosing Wisely Canada in collaboration. For any questions related to these materials, please contact [email protected].
---
Time to Talk: Encouraging serious illness conversations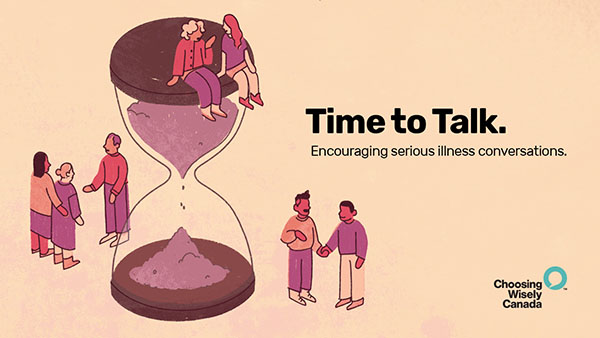 Choosing Wisely Canada is proud to partner with over 30 national clinician societies on a recommendation to encourage serious illness conversations. The recommendation, released on March 10, 2021, underscores the importance of earlier and better conversations about values, goals, and wishes to ensure patients receive the care they want, feel less distress, and avoid tests or treatments that are potentially harmful.
The College of Family Physicians of Canada supports the following recommendation and encourages our members to have these important conversations:
Don't offer tests or treatments without establishing your patient's prognosis, preferences, and goals of care. Potentially harmful or overly aggressive tests or treatments can be avoided by having discussions about goals and wishes, and documenting this information.
Early conversations about disease understanding, wishes and goals with patients who have serious or progressive chronic illness can avoid potentially harmful tests or treatments. Ensuring patients discuss and document wishes and goals, as well as identify a substitute decision maker can support evidenceinformed and patient centred care.
How you can get these conversations started:
Choosing Wisely Canada has developed tools and resources to help get these conversations started. You
can download below:
Interested in presenting on serious illness conversations? Download the Time to Talk presentation template:
www.ChoosingWiselyCanada.org/Serious-Illness-Conversations
.
---
Opioid Wisely
For additional information please visit our project website.
Do More Screening Tests Lead to Better Health?
Whiteboard video
This 10-minute educational video focuses on a number of common screening tests (vitamin D malabsorption, mammography, thyroid testing, etc.) to help inform dialogue between family physicians and their patients on appropriate testing.
Questions?
Please contact Lily Oeur, Manager, Practice Support Programs at [email protected].