Assessment Objectives for Certification in Family Medicine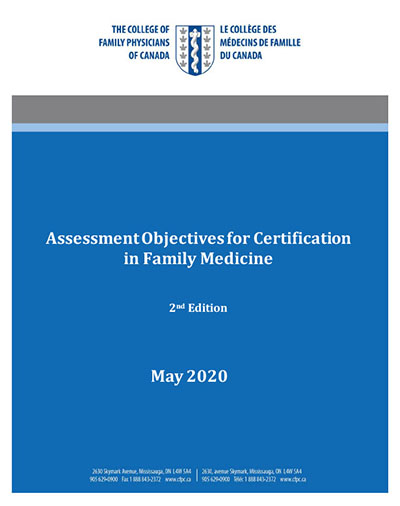 Assessment Objectives for Certification in Family Medicine – Updated version
Assessment Objectives for Certification in Family Medicine (previously titled
Defining competence for the purposes of certification by the College of Family Physicians of Canada: The evaluation objectives in family medicine
) describe the essential skills and observable competencies that are expected from residents at the end of their training. As such, the document serves as a major guide to both in-training assessment and the content of the Certification Examination.
Competencies are described in terms of their most salient key features and observable behaviours. Each competency is specific to the situation's context and to the phases of the clinical encounter; furthermore, each competency is linked back to the appropriate skill dimension, reinforcing this essential relationship.
For further details about competence-based assessment and its components, please refer to the College's 2018
Continuous Reflective Assessment for Training (CRAFT)
document.
Follow these quick links to specific parts of the document:
The links below will allow you to:
Search by keyword, topic, key feature, skill dimension, phase of the encounter
Filter lists of key features and observable behaviours tailored to your teaching/learning needs
Create customized field notes to document a teaching/learning encounter
The Patient-Centred Approach
Communication Skills with Patients
Communication Skills with Colleagues (includes key features for Charting skills)
Professionalism
Clinical Reasoning Skills
Selectivity
Procedure Skills
Priority Topics and Key Features